Restaurant loans: funds your restaurant, even with bad credit
We offer restaurant loans and financing options that adapt to your restaurant needs
We can help you grow your business with restaurant loans.
We know that growing a restaurant is a difficult process and obtaining funding is also tricky. Traditional banks are usually wary about the market given the costs involved and the overall competition found within the restaurant and catering industry. This makes attaining a restaurant loan difficult, even for an established enterprise and franchise.
Along with the difficult process of obtaining finances through a traditional bank loan, the restaurant industry also needs to take into consideration the seasonality of the business. While having access to a large amount of capital can be beneficial for your restaurant, it is also important to consider your day to day needs, your kitchen staff, and the impact of seasonal changes on your restaurant's traffic.
Therefore, giving you the resources, you need to grow your restaurant is our priority. That's why we offer flex financing and fixed financing options, ranging from $5,000 to $2 million so, we can support all your projects. Anyway, we offer some of the lowest rates in the Canadian market. You can start our easy application process online today or call us if you have any questions.
Fixed Financing.
Release the full potential of your restaurant.
Sometimes, not having access to capital is the only thing keeping you away from accomplishing successful projects. At Just Capital Canada, we truly believe in the potential of your restaurant. That's why we make access to capital quick and easy with our small business loans.
Our restaurant loans let you access a sum of capital that you can bring into your future projects, such as upgrading your kitchen equipment, expanding your dining room to accommodate more guests and/or buying new furniture to refresh your look.
Buy new restaurant equipment
Purchasing new equipment is one of the most common reasons why restaurants pursue a small business loan. Whether you are growing fast, or want to replace old equipment, buying new kitchen appliances can lead you on the right track for success.
Remodeling your dining room can be an efficient way to increase your activity. With an adapted restaurant loan, you can expand your dining room to accommodate more customers, or even explore new atmospheres with new furniture to improve your guest's experience.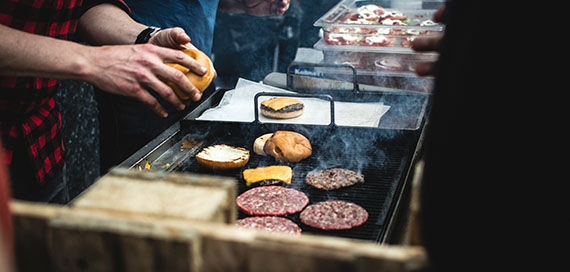 Apply for restaurant loans
There are many reasons why you could use a restaurant loan. Therefore, it's important for you to identify why you need the funding to make the most out of the capital.
Flex Financing.
Loans as flexible as your restaurant.
Flex financing can help you sustain your restaurant in many ways. In fact, with our flex financing you can easily access capital and flexible repayment options. Whether you are facing a sudden growth, or a drop-in activity due to seasonality, our flex financing lets you easily access capital while offering flexible repayment options. We offer two financing options for your restaurant, Merchant Cash Advance, and Line of Credit. Both options present you with different financing solutions however, regardless of what you choose the same goals can be achieved.
A merchant cash advance is a safe way to access the capital you need. You get a sum of cash in exchange for a percentage of your future sales and until full repayment. Since this option is linked to your sales, you will not be crushed by monthly payments when there is a dip in your restaurant activity and or during low seasons.
A line of credit gives you access to capital whenever you need it. Once you are approved for an amount, you can decide to use the totality right away, or split it into smaller loans for when needed. Also, because it's revolving, you can access the funds again once you have repaid the full amount. And yes, you only pay what you take!
Bad Credit Restaurant Loan.
Get your restaurant back on track.
Your credit score is closely examined with traditional banks. A poor credit can be the result of many factors, even due to incidents that happened years ago. We believe that a bad credit score should not disqualify your restaurant from a business loan. That's why we offer a bad credit business loan. We want to give you the chance to access funds when it would otherwise be impossible and extremely costly.
Apply for bad credit business loans
Bad credit might have been the reason why you didn't get a restaurant loan in the past. Yet, with our bad credit business loan, you can have access to the capital you need to grow.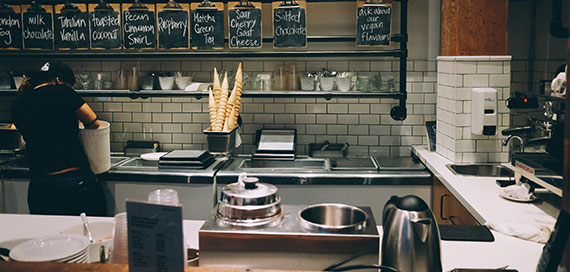 Small Business Financing.
We support many industries.